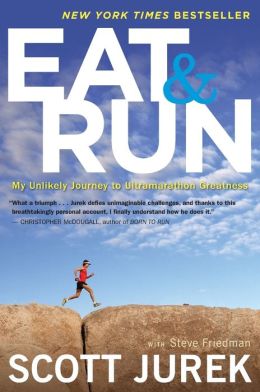 Sometime before Christmas, Laura and I went shopping. Shopping as in, Laura shopped and I sat in Barnes and Noble reading, "Eat and Run" by Scott Jurek and Steve Friedman. I had the opportunity to see Jurek speak at an event during the
Boston Marathon weekend back in 2011
, and had read about him in the book, "Born to Run." I knew Jurek was an amazing ultra runner as well as a vegan, both of which are topics of interest to me.
After reading the first five chapters or so in the Rochester Barnes and Noble, I decided a couple of months later to pick the book up from the library. It turns out that not only is Jurek an amazing runner and all-vegan athlete, he's also somewhat of a gourmet vegan chef.
Co-written with accomplished sportswriter Steve Friedman, Jurek tells a compelling story of his journey to ultra running greatness and his adoption of a vegan diet. Even for those not interested in running, Jurek's personal story chronicling the highs (wins at some of the biggest ultra marathons in the world), and lows (his mother's MS, a falling out with his father) of his career and personal life will keep them turning the pages.
"Eat and Run" got me interested in trying a vegan diet. However, though the recipes included at the end of each chapter sound delicious, they also contain around 21 ingredients per recipe. I like cooking and eating healthy, but at this point in my busy-enough life I'd rather spend time reading, writing, and watching birds than driving to
Whole Foods
to get bulk bulgur wheat for a 24-ingredient chili (
read the recipe here
).
Still, if you like making complicated stuff, the recipes do sound tasty and the writing and story kept me turning the pages of "
Eat and Run
."
Happy Running!